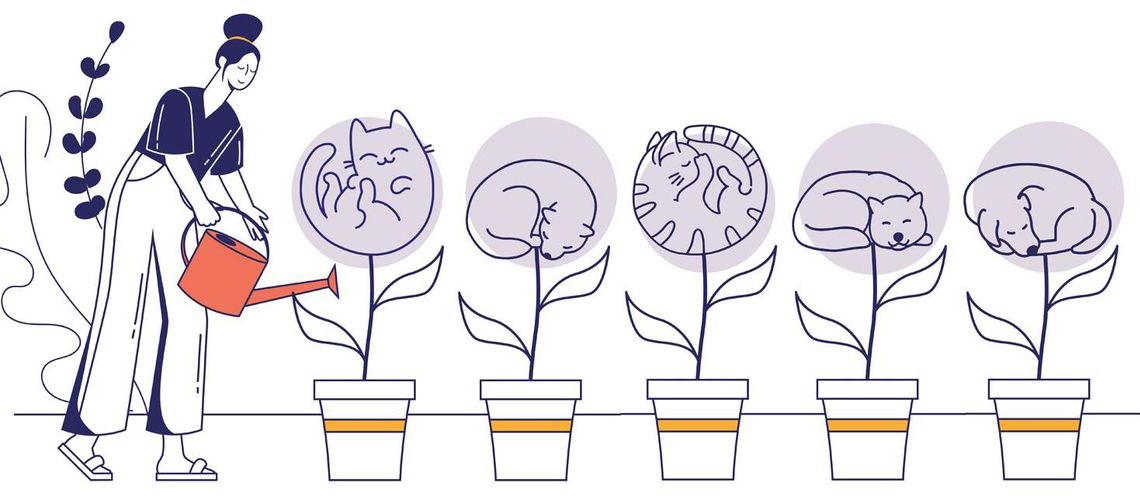 Why Trending Diagnostics in Preventive Care for Pets Matter
An important benefit of veterinary preventive care is being able to detect disease earlier on in pets. One way to enhance the impact is to establish a diagnostic baseline and record data over time, which can detect abnormalities and disease earlier than usual.
As a result, including trending diagnostics in your preventive care program can help improve diagnoses, medical recommendations, pet owner compliance, and patient outcomes. Here's how.
Making Pattern-Driven Decisions for Better Care
Not only does trending serve as a strategy for earlier detection, but it also helps veterinarians guide their clients to make informed decisions about their pet's care. Deciding when it is time for advanced diagnostics, involved treatments, or even surgical procedures can be problematic when based on one lab panel without a baseline for comparison. This becomes even more challenging when the patient's results fall within a "gray zone" or aren't remarkable enough to make a clear-cut decision. Trending diagnostics, however, offer a clearer view.
​ Elevate patient care without overwhelming staff. Learn how.​
For example, Ralph—a neutered, clinically healthy, male, mixed-breed canine—has his first preventive care panel at seven years old, and the results reveal an elevated ALT of 225 U/L, with a normal reference interval of 10-125 U/L. This isn't necessarily a significant deviation, but it's also not normal. If there were values to compare to earlier in life that showed either a significant change over time or that his ALT regularly came back around 225 U/L, the next steps to take might be clearer. The veterinarian can then suggest that he return for a follow-up panel or serial panels over time to evaluate the trend in the ALT, which may better determine the possibility of serious liver disease.
During conversations with pet owners, relying on patterns provides substance to your evaluation, makes recommendations clearer, and inspires confidence in your suggestions. This can increase compliance while also reducing worry.
Watch this short video to learn about the index of individuality.
The Math Behind Veterinary Diagnostics Trending
As a veterinarian faced with explaining the importance of evaluating trends versus single values, it might be helpful to consider the math behind the concept. The index of individuality is defined as "the ratio of the within-subject biological variation to the between-subject variation, i.e., the variation between the biological set-points." This is important because the index of individuality accounts for the limitation of general reference intervals to detect what's "normal" for a healthy patient whose lab values fall outside the general reference interval for their species.
General reference intervals are based on statistics, and there are some patients who can fall outside of the "normal" reference interval despite being healthy; these results are, in fact, normal for them. Evaluating trends in that patient's deviation from normal can help veterinarians identify the small percentage of animals who will fall outside of the range.
Pets are biologically unique, so this factor—or limitation—cannot be eliminated. However, performing baseline lab testing and regular preventive care panels will provide more clarity about what's normal for that patient and when a value change warrants further investigation or treatment.
How Trending Can Help Support Organ Health Assessment
By focusing on the trends, veterinarians can more efficiently evaluate a wide range of diagnostic tests, including hematology, chemistry, urinalysis, and infectious-disease screening. When the results are compared over time, veterinarians can get a more accurate idea of true organ health and function.
Advances in veterinary practice management software have made it easy to access trends, organizing results for both in-house point of care and outside lab results. There are tools available, including data graphs, that can be used not only to help veterinarians make pattern-driven recommendations but also to facilitate more effective client communication.
For example, utilizing the visual aid to show the client a gradual upward trend in creatinine over time from 1.7 U/L to 2.3 U/L can have a greater impact than just explaining the concentration has gone from 2.1 U/L to 2.3 U/L since the last lab screening. On the flip side, graphs can also be used to alleviate worry for a client whose pet has consistently had normal values and receives a result that is only slightly abnormal.
Trending can give your patients the best chance at a longer, healthier life while also providing you with the necessary information to clearly communicate with pet owners.

These results echo what I have personally seen in wellness testing. I've been practicing veterinary medicine since 2004 and have plenty of anecdotal patient evidence contradicting the idea that youth alone precludes any brewing health problems. This is why testing at all stages of life is so important for our patients.
Wellness testing is a relatively easy and affordable way to ensure that veterinarians get the necessary information to provide pet owners with options that, in many cases, will improve the quality of their pets' lives. Here's what to look for at three stages of life.
Young Pets
The wellness profiles of young adult dogs and cats (aged 1-3 and 1-7 years respectively) in the IDEXX study showed clinically relevant abnormalities in 1 in 7 dogs and 1 in 5 cats. At first glance, it may seem like the percentage of significant abnormalities in seemingly healthy young adult patients is not high enough to warrant regular wellness testing. However, would any of your clients want their pet to be the one who missed the chance for early detection of a treatable or manageable condition? I doubt it.
In addition, one of the benefits of wellness testing for young pets is establishing a diagnostic baseline. Knowing what is normal for a specific animal, and assessing trends as time goes on, makes decisions so much easier if the patient becomes ill or is experiencing vaguely abnormal symptoms. In addition to providing baseline information, health screening at this stage can also uncover congenital or early development issues. Although these conditions may be rare, they do occur.
One case that sticks out in my mind is a golden retriever puppy under my care who was diagnosed early in life with renal dysplasia. Our first indication came from elevated renal values in her routine wellness panel performed at around six months of age. Ultrasound then confirmed the diagnosis. Although her owners were disappointed and sad, they were grateful that we uncovered the problem as early as we did. As their veterinarian, I was able to map out a monitoring and management plan that gave them three full and happy years with their beloved pet.
Adult Pets
As you may know from your own patients, when it comes to adult pets there can be more abnormalities found with wellness testing. In fact, the same IDEXX study showed that 1 out of 5 apparently healthy mature adult dogs (aged 4-8 years) and in 1 in 3 mature adult cats (aged 7-9 years) had clinically relevant findings.
Adult pets are in the prime of their lives, which means should be able to handle symptoms in the face of medical conditions or disease. Analyzing results and assessing trends during this life phase can help detect disease or imbalance before the patient is older and potentially more difficult to treat.
Senior Pets
During later phases of a pet's life, wellness testing can help detect emerging or "hidden" medical issues that threaten both quality of life and longevity. In the IDEXX study, wellness testing uncovered significant problems in 2 in 5 senior dogs (aged 9 years or older) and 3 in 5 senior cats (aged 10 years or older). By detecting these problems prior to the emergence or escalation of clinical disease, veterinarians are able to create treatment plans that can prevent or prolong further deterioration of health.
A good example would be a senior arthritic dog on NSAIDs whose serum chemistry comes back with an elevation in the renal values. In this case, the veterinarian has the potential to shift pain management strategies in a way that can spare the kidneys or slow down the progression of renal disease and the secondary health problems that come with it. Detecting these underlying abnormalities can make a huge difference in extending life for these more fragile patients.
A Happier, Healthier Life
Are you still worried you don't have enough evidence to warrant testing at any age? Keep this in mind: Improving the life, or case outcome, of one patient isn't going to change the world, but it will change the world for that patient and their family. Through diagnostic screening, you become aware of emerging problems in your patients—and this enables you to offer options that can give them a happier, healthier life and more quality time with their families.